UCLA POST GRADUATE PROGRAM IN MANAGEMENT FOR EXECUTIVES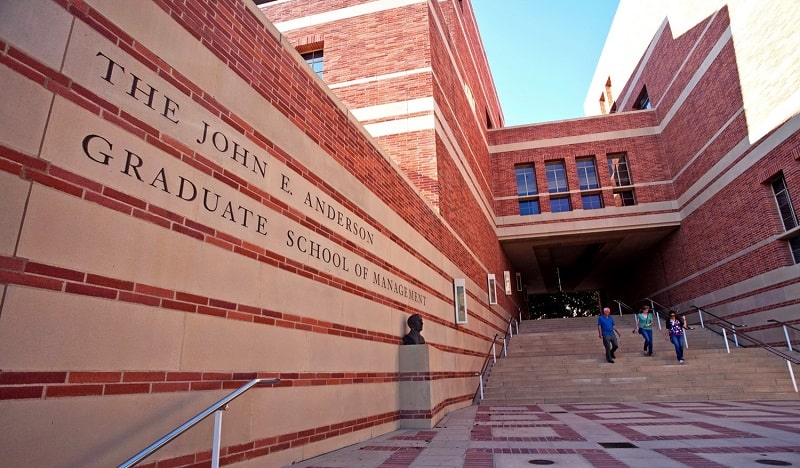 AUGUST 2019 – JULY 2020
Location : INDIA & UCLA CAMPUS (California, US)
Program Fee : USD 28,000

PROGRAM CONTACTS
Email : ucla@northwest.sg
Phone (India) : +91 8587878713 / 14 / 15
Phone (USA) : +1 310-825-2001
UCLA PGPX – Post Graduate Program In Management for Executives is an extensive General Management Program offered by UCLA Anderson School of Management, one of the top Global Business Schools. Arguably the first program of its kind in India and South Asia, this one-year program  is focused on applied learning of Advanced Management concepts for Senior Executives and Business Owners. Its part-time, modular format provides great flexibility and UCLA faculty and industry leaders ensure that the program covers all aspects of best-in-class Management Education, expected from a highly respected and globally renowned institution. The UCLA PGPX Program puts you on the global leadership map, with a combination of strategies, skills and acumen that will stretch your thinking, and hone your abilities as a leader and manager capable of achieving remarkable growth in your business.
Apart from becoming part of your own cohort community and building an enviable network, participants graduate from the UCLA PGPX as a member of the outstanding UCLA Anderson alumni network. This entitles the participants to:
Global Alumni Status and privileges. As a member of distinguished UCLA Anderson alumni network, you will have access to more than 36,000 alumni who have graduated from UCLA Anderson since its founding in 1935.
An Anderson email address that will forward to your preferred email account (e.g your_name@anderson.ucla.edu). This does not expire ever.
UCLA Anderson Alumni Directory and Alumni LinkedIn Groups
UCLA AndersonEmail Listservs and Facebook Groups
You will also be invited to attend:
The Alumni Conference (held during Alumni Weekend)
UCLA Anderson Alumni Events that occur globally thanks to the efforts of the school and/or the UCLA Anderson Alumni Network Chapters and Groups.
You will also receive:
Dean's Quarterly Newsletter
Anderson Assets (the school's official online publication)
UNIQUE UCLA ADVANTAGE
For nearly 100 years, UCLA has been a pioneer, persevering through impossibility, turning the future into attainable. We doubt the critics, reject the status quo and see opportunity in dissatisfaction. Our campus, faculty and students are driven by optimism. It is in our DNA. It is not native; it is essential. It is what enables us to push forward and redefine what's possible. It pervades our focus on education, research and service and, in turn, opens limitless opportunities to every student. And it has fueled every accomplishment, allowing us to redefine what's possible, time after time.

This can-do perspective has brought us 13 Nobel Prizes, 12 MacArthur Fellows, more NCAA titles than any university and more Olympic medals than most nations. Our faculty and alumni helped create the Internet and pioneered reverse osmosis. And more than 140 companies have been created based on technology developed at UCLA.
Diversity of Recruiters

Best Classroom Experience
Global Executive MBA

Top MBAs for
entrepreneurship
The UCLA Anderson PGPX is designed for high potential business leaders and emerging stars with several years of management experience, who direct specific functional areas of a dynamic enterprise. Global enterprises rely on the program to prepare candidates for general management positions. Established entrepreneurs and other professionals will rely on the program to expand their ability to take their businesses to the next level of success.
Program is suitable for professionals with:
High-quality experience with significant responsibilities and a demonstrated career progression in a corporate or entrepreneurial environment.
Experience in leading teams and managing projects/ products/ people, preferred but not required.
A minimum of 8+ years of work experience.
An undergraduate degree with a strong academic track record.
Fluency in written and spoken English.
Class Profile
Global. Diverse. Successful.
UCLA PGPX attracts the very best of senior executives across diverse industries bringing in rich perspectives and amazing opportunities to learn and collaborate.

UCLA PGPX has been designed to expose the participants to Management and Business Leadership essentials, in an extensive General Management curriculum that is designed to be experiential in learning and applied in focus. UCLA Anderson has been offering executive education programs for several decades. These programs conform to the highest standards of quality and are taught by some of the best faculty in the world. UCLA PGPX promises the same elite experience to participants joining the program from all parts of the world.
The videos and testimonials below capture the experience of programs and participants in different UCLA Anderson Executive Education Programs, who are all taught by the same world class faculty and learn on the same UCLA campus as the MBA and Executive MBA Programs.
Providing Thought Leadership in the Classroom and Workplace
The mainstay of UCLA Anderson's high-quality management education programs is its esteemed, international faculty. Each year, UCLA Anderson faculty members publish papers in leading scholarly journals, receive recognition for research excellence, provide leadership in and beyond UCLA, and serve as inspirational teachers and mentors.
Prof. Sanjay Sood is a Professor of Marketing at UCLA Anderson and Faculty Director for UCLA PGPX. His research and teaching expertise lies in the area of brand equity and consumer decision making. Using psychological principles, Sanjay examines how firms can best build, manage, and leverage strong brand names. This includes investigating what brand names mean to consumers, how to manage brand portfolios, how to use brand naming strategies to launch new products, and how to protect brand names from becoming diluted over time and across geographical boundaries. His research has been published in leading marketing and psychology journals including the Journal of Consumer Research, Journal of Marketing, and Cognitive Psychology. Sanjay is an associate editor at the Journal of Marketing, and he is on the editorial review boards of the Journal of Consumer Research, Journal of Consumer Psychology and the Journal of Marketing Research.
Program faculty may include:
The program curriculum design ensures that participants develop an extensive functional knowledge of management essentials from a local and global perspective. Participants will also hone analytical problem-solving skills directly relevant to the most critical global business and organizational issues.
Intense work, led by world-class faculty and fueled by peer synergy, challenges your potential and shows you how to reach it in the UCLA PGPX Program. The focus of the Program is your development as a leader with strong inter-personal skills, capable of envisioning, communicating and implementing positive change in your business. The program structure outlined below is subject to periodic curriculum review and the modules taught are subject to change in content and coverage.
Various Experiential learning techniques that drive home the applicability of the program sessions and develop vital skills as a team builder, leader, and member, include:
Hands-on simulations, taken from the current business world, force you to adapt to multiple team roles, excel at problem-solving, and swiftly master complexity, as you generate and stress-test ideas.
A case competition closes out the program, drawing upon the application of all your acquired knowledge and enhanced leadership abilities. Your team skills will be put to the test as your group takes on a real business, marshals fact-based decision-making and devises a unique, practical solution to its challenges for review by an elite panel of judges.
Throughout the program, you have privileged access to executive coaching through Northwest and during the UCLA on campus sessions from LA based coaches, that will help you clarify your goals and develop an action plan to sharpen the effectiveness of your leadership behaviors. Your UCLA Anderson professors remain engaged in your success and open to contact long after the program ends.
AUG - NOV
DEC - MAR
APR - JUL

CORE COURSES

Strategy

Financial Accounting

Branding and Marketing

Data Decisions

Corporate Finance

Operations

Innovation

Investments

Entrepreneurship

Venture Initiation

Mergers and Acquisitions

LEADERSHIP

Management Communication

Case Analysis

Personal Leadership

Leading Cross Cultural

Teams

People Leadership

Effective Communication

Persuasion and Influence

Negotiations

Mentoring and Coaching

WORKSHOPS

Human Capital Management

CV and LinkedIn Profile

Development

Hypothesis Based Problem Solving

Finance Boot Camp

Design Thinking

Digital Business Transformation

Legal Aspects of Business

Business Plan Development

SIMULATIONS

BUSINESS CASE

EXERCISES

Business Case Exercise 1

Business Case Exercise 2

UCLA Case Competition

Business Case Exercise 3

Business Plan Demo Day

Finance and Business

Simulation
Once you have joined the UCLA PGPX, the next step is to plan your career growth roadmap. Early planning and committed execution is key to professional success, much like execution of your corporate and brand strategy at workplace.
You require career support based on industry, organization, function and level of seniority, to ensure that you are able to reach your desired goals. Northwest Education aims to add value through several interventions focused on providing the requisite support as you develop your plans and execute them.
On your request, a Northwest Executive Coach will work with you to help develop that plan through a detailed interaction and asking relevant questions, helping guide your thinking as you prepare for the next step. This interaction is broad ranging and is meant to address the gaps in your profile and leadership journey as well as develop measures to improve performance at work, and in advancing your career, within or outside the organization.
Northwest support includes:
UCLA PGPX follows a rolling admissions (first come, first serve) process and participant applications are evaluated as soon as they are received. The step-by-step process is outline below.
| Round | Deadline Date | Application Fee |
| --- | --- | --- |
| Round 1 | | |
| Round 2 | | Closed |
| Round 3 | Dec 15, 2018 | USD 250 |
Please Note:
The early application and acceptance round increases your chances of acceptance in the program by 50%
Considering the limited seats in the program and first come – first serve admission process, it is always more beneficial for candidates to apply as soon as possible. 
Your application can be placed on the waiting list. If you are not offered final admission for the current program, you might be offered a place in the next year's program. In this case, your application fee will then be considered for the next year's program. 
Application fee is refunded only in the case an applicant is not offered an admission to the program. 
PROGRAM FEES AND FINANCING
The Program fee for UCLA Anderson PGPX is USD 28,000 inclusive of all taxes. It covers teaching fees, all academic materials, lunches, select dinners and accommodation for the US module only. The Fees does not include transport expenses (domestic and international), any associated visa fees etc. and accommodation for modules and/or workshops in India. It also does not cover any other expenses that are not expressly mentioned above.
You are responsible for full payments of fees as per the guidelines to ensure that you are part of the program. Typically we see participants adopt one of the three routes below for paying the program fees.
Candidates can pay the entire fee through available funds/ savings
There is no difference in terms of payment schedule and requirements, should the candidates fund their own candidacy.
Financing by way of loans to pay the program fees and incidental costs is available to all participants through Credila (An HDFC Limited company) or Avanse (a DHFL Company) at competitive interest rates.
Subject to Participant meeting certain norms, loans of up to Rs. 17 lakhs may be availed without any collateral requirement. Decisions on loan approval and collateral requirements will be taken by the financial institution disbursing the loan, at its sole discretion
Please note that applying for financing by way of loans in no way jeopardizes a participant's admission evaluation. However, in order to ensure that your loan is disbursed on time, we suggest that all participants seeking loan financing meet the early application deadline .
Companies can support the internal career advancement of their high potential senior executives by sponsoring them in the program.
Companies interested in sponsoring their high potential senior executives and who want to learn more about the programme should get in touch with Northwest at UCLA@northwest.sg to schedule a one-on-one discussion with a program advisor.
Get more information
Please fill out the form below to get more information about the UCLA Post Graduate Program in Management for Executives (UCLA PGPX).