UNIVERSITY OF LONDON INTERNATIONAL PROGRAMMES
DIPLOMA FOR GRADUATES IN MANAGEMENT

MAY, 2016 - MAY, 2017

Locations : Bangalore, Delhi & Mumbai

Program Tuition : Rs 9,95,000*

PROGRAM CONTACTS

Email: [email protected]
Phone: +91 8587878713 / 14 / 15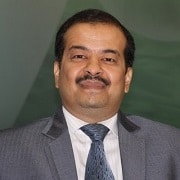 (CA; CMA and Masters in Business Finance)
Vikas is a senior financial specialist with over 16 years of domain experience. At present he is the General Manager – Finance with Avana Integrated Systems (a Joint Venture of Tata Advanced Systems Ltd and AGT International) where his role involves establishing both the Finance and IT functions for the new organization. He also serves as a part of the Company's core management team where his expertise is leveraged to link between the Company's business objectives and financial performance. He is also responsible for all financial reporting and compliances of the company including its entire P&L statement. Prior to this stint Vikas was the General Manager – Finance wit HCL Technologies where he led the entire accounting and reporting function of the Company. He has a decade and a half experience in all the major aspects of accounting and financial activities including General Accounting, Banking, Taxation Foreign Exchange, Balance Sheet, Statutory Compliance and the U.S. GAAP Audit. Vikas takes a keen interest in financial awareness and education in fields related to Financial Management, Management Accounting and Valuation.