USC POST GRADUATE PROGRAM IN ANALYTICS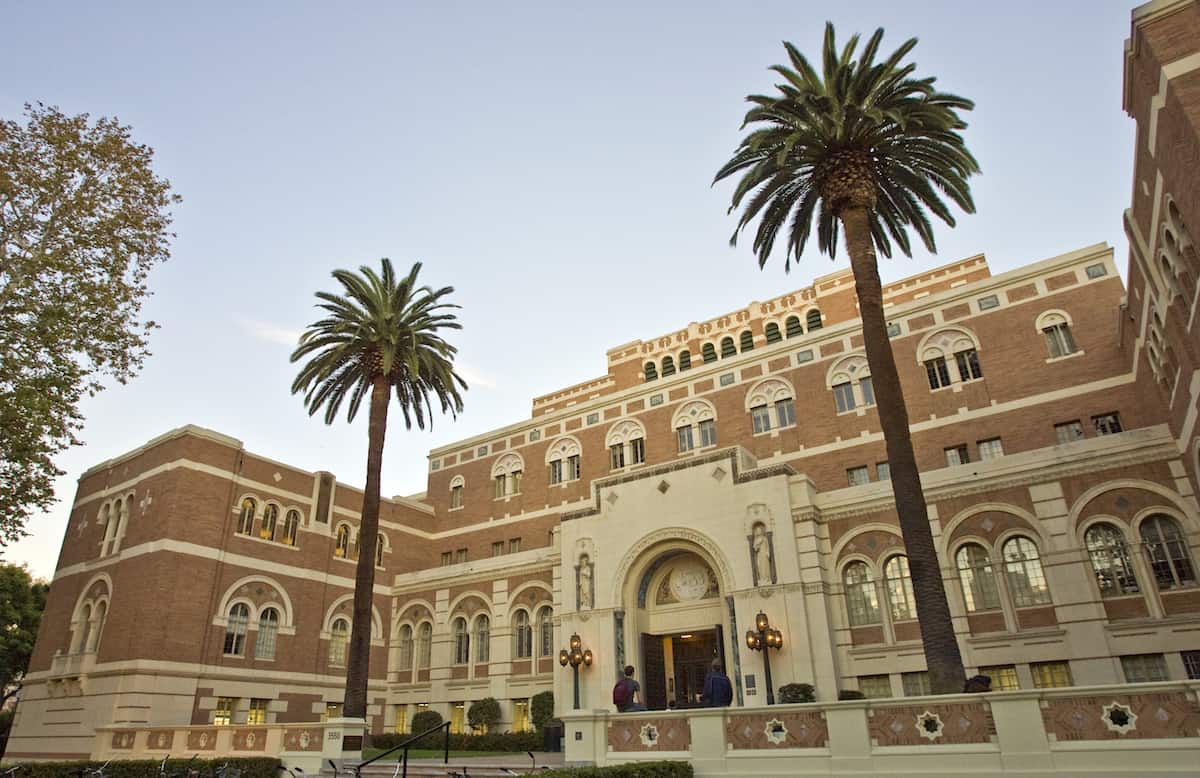 Location : INDIA & ONLINE
Program Fee : USD 8,000
PROGRAM CONTACTS
Email : usc@northwest.sg
Phone (India) : +91 8587878713 / 14 / 15
Phone (USA) : +1 213-821-4172
Post Graduate Program in Analytics (PGPA) from the University of Southern California Viterbi School of Engineering is a rigorous, application-oriented one year program. PGPA is based on USC Viterbi's Master of Science in Data Informatics and extensively leverages research and best practices in the fields of Analytics, Data Sciences and Informatics.
The program will put you on a fast track path for a rewarding career in the rapidly growing fields of Business Analytics, Big Data and Data Science. It will enable you to manage and derive insights from large data sets for enterprises, and also build systems that can help companies to leverage data for effective decision making.
The program faculty includes Professors from the world-renowned Viterbi School of Engineering at the University of Southern California as well as experienced professionals from industry. PGPA is a continuing education program that awards participants the USC Certificate of Completion and Continuing Education Units (CEUs) upon successful completion. The program's course delivery is blended in design, combining classroom sessions with live online and self-paced online sessions and is tailored for the busy schedules of promising working professionals.
Successful participants of the program receive USC Viterbi continuing education alumni benefits. This entitles the participants to:
Program Completion Certificate as well as Completion Certificate for each individual course awarded by USC with Continuing Education Units (CEUs).
Become a member of the USC Viterbi Alumni Network.
Invitation to join the LinkedIn 'USC Viterbi in India' group.
A 15% discount on enrolment in future continuing education open enrolment offerings by the USC Viterbi School of Engineering.
Invitation to attend local USC-sponsored Alumni Association Events. The local chapter is called the USC Alumni Club of Mumbai, India.
USC Viterbi Rankings (U.S. News & World Report, 2016)
#1

Online Graduate Computer Information Technology Programs

#2

Online Graduate Engineering Programs

Top 15

Graduate Engineering Schools
ABOUT USC VITERBI SCHOOL OF ENGINEERING
A groundbreaking professional school in one of the world's leading private research universities, the Viterbi School celebrated its centennial year in 2005. The USC Viterbi School of Engineering is innovative, elite and internationally recognized for creating new models of education, research and commercialization that are firmly rooted in real world needs. The school's first priorities are the education of outstanding students and the pursuit and publication of new research. Some of the key highlights of USC Viterbi include:
USC Viterbi is ranked # 1 for Best Online Graduate Computer Information Technology Programs and recognized as one of the top 15 Engineering Schools by U.S. News & World Report.
USC Viterbi Computer Science department is ranked in top 10 in Microsoft's academic research rankings in Computer Science.
Viterbi's faculty roster includes includes more than 64 NSF Career Awardees, 8 winners of PECASE Early Career awards, 20 full-time, tenure-track National Academy of Engineering members (37 total), 7 NAS members, 11 MIT TR35 winners, and the 2003 winner of the Association for Computing's Turing Prize, often described as the "Nobel Prize in computing".
More than a third of the faculty have been elected fellows of their respective professional societies.
ABOUT USC
Located in Los Angeles, a global center for the arts, technology, and international trade, the University of Southern California is one of the world's leading private research universities. USC has one of the most diverse student populations of any U.S. university, with students from throughout the U.S and over 100 countries worldwide. With a strong tradition of integrating liberal and professional education, USC fosters a vibrant culture and encourages students to cross academic as well as geographic boundaries in their pursuit of knowledge.
The program is designed for young professionals and emerging stars with work experience in software, technology, data analysis, business intelligence or reporting-focused functional roles.
Program is suitable for professionals with:
A strong drive to succeed and aspirations for reaching beyond the obvious career milestones.
Demonstrated ability to adapt, learn and apply new knowledge in varied situations.
A minimum of 4+ years of work experience in Software Development, Engineering, Analytics, Business Analysis or other associated roles.
A graduate degree with a strong academic track record in fields such as Engineering, Mathematics, Statistics or Economics is preferred.
Exposure to software programming and/or computer science is preferred.
Fluency in written and spoken English.
The program curriculum is designed to provide participants with the knowledge and skills to:
Derive insights from data and present existing data in intuitive and insightful visualizations.
Solve complex business challenges by leveraging data extensively.
Help organizations effectively manage large data sets (i.e. work with Big Data), with focus on architecture, integrity, management, scalability and artificial intelligence.
Apply analytical models and build systems that can help companies identify causal and predictive patterns for effective decision making, and
Utilize technical and engineering skills, coupled with informatics capabilities to provide enterprise-centric solutions to stakeholders.
The comprehensive program (based on USC Viterbi's Master of Science in Data Informatics), led by world-class faculty and fueled by peer synergy, challenges your potential and enhances your ability to succeed in the rapidly evolving world of data science and analytics. You will be constantly engaged in applying concepts and tools on real data sets and business problems. This will help you understand how data management, data visualization, data mining, and artificial intelligence techniques (specifically machine learning) can be applied to solve real world challenges.
Various experiential learning techniques that drive home the applicability of the program include:
Hands-on real world challenges, taken from the current business context, require you to apply your learning, excel at problem-solving, and swiftly master complexity.
Integrated assignments and exercises pull together all the skills, knowledge and experience acquired during the program.
Business Domain Modules to build strong foundations in application areas of Data Sciences and Analytics.
Throughout the program, you will be interacting with Industry experts from leading Multinational and Indian companies who will share their insights, experiences and emerging practices within specific application areas of Data Science and Business Analytics.
The program structure outlined below is subject to periodic curriculum review and the modules taught are subject to change in content and coverage.
FEB - JUL
AUG - FEB

CORE COURSES

PROBABILITY & STATISTICS
DATA INFORMATICS IN LARGE DATA ENVIRONMENTS
DATA MANAGEMENT

FOUNDATIONS AND APPLICATIONS OF DATA MINING
INFORMATION VISUALIZATION
MACHINE LEARNING FOR DATA INFORMATICS

BUSINESS MODULES

MARKETING
RETAIL AND OPERATIONS (INCLUDE FORECASTING)
FINANCE

INDUSTRY CONNECT

INDIA INNOVATION FORUM
INDUSTRY INTERACTION SESSIONS




- Retail

- Insurance and Banking

INDUSTRY INTERACTION SESSIONS




- Life Sciences and Healthcare Pharma

- Marketing & Social Analytics

TOOLS AND TECHNOLOGIES

SAS

HADOOP

MAP REDUCE

CLOUDERA

AMAZON S3

SIMPLEDB

DYNAMO

SPARK

TABLEAU

NOSQL

MYSQL

SPARK ZEPELIN

GOOGLE CHARTS

WEKA

GIT

R PLOTTING SYSTEM

WORKSHOPS

- HYPOTHESIS BASED PROBLEM SOLVING

- MAKING IMPACTFUL PRESENTATIONS

- CV AND LINKEDIN PROFILE DEVELOPMENT
Bringing Research and Innovation Driven Excellence to the Classroom
USC Viterbi faculty members pursue leading-edge research in critical technologies, supported by the resources of our engineering research centers. Combining distinguished scholarship with years of industry experience, the Viterbi School faculty is made up of enthusiastic teachers committed to fostering genuine intellectual partnerships with our outstanding students.
Each year, USC Viterbi faculty members receive recognition for research excellence, and provide leadership in academics, research and innovation. More than a third of the faculty have been elected fellows of their respective professional societies and approximately one third of its faculty hold endowed professorships, and many faculty members have joint appointments in other departments or schools.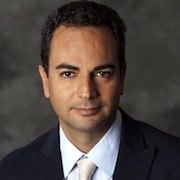 Prof. CYRUS SHAHABI is a Professor of Computer Science and Electrical Engineering and the Director of the Information Laboratory (InfoLAB) at the Computer Science Department. He is the Director of the Informatics Program at the USC Viterbi School of Engineering. He is also the Director of the NSF's Integrated Media Systems Center (IMSC) at the University of Southern California (USC). He was the CTO and co-founder of a USC spin-off, Geosemble Technologies, which was acquired in July 2012. Since then, he founded another company, ClearPath (recently rebranded as TallyGo), focusing on predictive path-planning for car navigation systems.
Dr. Shahabi has received funding from several agencies such as NSF, NIJ, NASA, NIH, DARPA, AFRL, and DHS as well as several industries such as Chevron, Google, HP, Intel, Microsoft, NCR, NGC and Oracle. He is a fellow of IEEE, and a recipient of the ACM Distinguished Scientist award in 2009, the 2003 U.S. Presidential Early Career Awards for Scientists and Engineers (PECASE), the NSF CAREER award in 2002, and the 2001 Okawa Foundation Research Grant for Information and Telecommunications. He was also a recipient of the US Vietnam Education Foundation (VEF) faculty fellowship award in 2011 and 2012.
He received his B.S. in Computer Engineering from Sharif University of Technology in 1989 and then his M.S. and Ph.D. Degrees in Computer Science from the University of Southern California in May 1993 and August 1996, respectively. He authored two books and more than two hundred research papers in the areas of databases, GIS and multimedia with more than 12 US Patents.
Program faculty may include: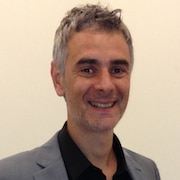 Luciano Nocero
Dr. Nocero is Associate Director at the Integrated Media System Center of the Viterbi School of Engineering at the University of Southern California, Los Angeles, CA. Dr. Nocera is currently participating in research in streaming data, including mobile and remote sensors for health applications with the goal to evaluate human performance and also in research in data intensive applications with the goal to cleanse data.
His research and research interest cover a wide spectrum of domains and technologies, including geo-spatial decision making systems, video analytics, geospatial crowdsourcing, remote health monitoring systems, serious games, computer graphics, computer vision, immersive audio and visual analytics. Dr. Nocera has ten years of project management experience and over fifteen years of programming experience with object oriented design.
He co-directed the Serious Games Lab research laboratory at the Integrated Media Systems Center at USC. Prior to joining IMSC, Dr. Nocera worked at Eyematic Interfaces Inc. where he lead the development of some of the company's products and conducted research in biometrics, 3D authoring and video driven interactive animation interfaces for use in communication applications and games.
Dr. Wensheng Wu
Dr. Wensheng Wu is Associate Professor of Engineering Practice at Computer Science Department of the Viterbi School of Engineering at the University of Southern California. Dr. Wu is currently participating in research on large-scale data integration, metadata analytics, and Deep Web.
Before joining USC in 2015, he was Assistant Professor of Computer Science at University of North Carolina at Charlotte since 2007. His research and research interest cover areas such as Database, Data Mining, Information Retrieval, and Web Technology.
He received his B.E. in Computer Science & Engineering from Tongji University in China in 1991 and then his M.S. in Computer Science from Fudan University in 1994. He received Ph.D. Degree in Computer Science from the University of Illinois at Urbana-Champaign in 2006. He also completed his Postdoc Research in Information Management at IBM Almaden Research Center. He has authored a patent and numerous papers. He has been a program committee member of several IEEE conferences over last decade.
Seon Ho Kim
Dr. Seon Ho Kim is the Associate Director of Integrated Media Systems Center at the University of Southern California (USC). Prior to this, between 1999 and 2010, he worked as a faculty member of Computer Science Department at University of Denver, Colorado, and University of the District of Columbia, Washington DC.
Dr. Kim's current research interest is in Data Science, Spatial database, GIS, Multimedia systems, and mobile video management. He has received funding from several agencies such as NSF, NIJ, JST, NII(Japan) as well as several companies such as Northrop Grumman Corporation, Chevron and Intel. He is NSF Panelist, Senior Member of IEEE, Member of ACM, Associate Editor of Digital Symposium Collection project by ACM SIGMOD and Associate Editor in the International Conference on Parallel and Distributed Processing Techniques and Applications.
He received his B.S. in Electronic Engineering from Yonsei University, Korea in 1986 and then his M.S. in Electrical Engineering and Ph.D. in Computer Science from the University of Southern California in May 1994 and August 1999, respectively. He has authored one book, more than hundred research papers in the areas of databases, Video servers and multimedia along with 4 US Patents.
Liyue Fan
Dr. Liyue Fan is a postdoctoral research associate with Integrated Media Systems Center (IMSC) at the University of Southern California (USC). She obtained her PhD in Computer Science at Emory University and her BSc in Mathematics at Zhejiang University in China. Her research work centers around the development of algorithms that facilitate sharing spatio-temporal data without disclosing sensitive information about individual data contributors. Dr. Fan's research strength is in data modeling and statistical estimation. Her research work has been well received at database, data mining, security and privacy conferences and journals.
Once you have joined the USC PGPA, the next step is to plan your career roadmap. Early planning and committed execution is key to professional success.
Northwest career advancement services provides personalized support to all participants of its programs (except company sponsored participants) to help develop their career advancement strategy and guidance for its execution.
Northwest works closely with program participants through a multi-pronged approach to ensure that they are well prepared for their role of choice in specific industry and functional area of relevance to each participant. This is done through a dedicated senior industry mentor who acts as an executive coach and provides detailed feedback to participant on his/her profile, resume / CV and a constructive critique on career plans. The Executive Coach also guides the participant towards development of a specific plan to address the gaps as well as improve their performance at work place and in advancing their career, within or outside the organization.
The Coaching process is not necessarily aimed at immediate results but a carefully planned transformation that helps participants build on their strengths and improve on their development areas. Hence it is required that participants spend a significant time focusing on improving their profile and addressing gaps, as part of the program.
The process is as follows:
USC Viterbi's Post Graduate Program in Analytics (PGPA) follows a rolling admissions (first come, first serve) process and participant applications are evaluated as soon as they are received. The step-by-step process is outlined below.
Please Note:
The early application and acceptance round increases your chances of acceptance in the program by 50%
Considering the limited seats in the program and rolling admission process (first come – first serve), it is always more beneficial for candidates to apply as soon as possible.  
Application fee is refunded only in the case an applicant is not offered an admission to the program. 
PROGRAM FEES AND FINANCING
The Program fee is USD 8,000 inclusive of all taxes. It covers teaching fees, all academic materials, lunches and select dinners only. The Fees do not include any transport expenses and accommodations for modules and/or workshops. It also does not cover any other expenses that are not expressly mentioned above.
You are responsible for full payments of fees as per the guidelines (provided upon admission) to ensure that you are part of the program. Typically we see participants adopt one of the three routes below for paying the program fees.
Candidates can pay the entire fee through available funds/ savings
There is no difference in terms of payment schedule and requirements, should the candidates fund their own candidacy.
Financing by way of loans to pay the program fees and incidental costs is available to all participants through Credila (An HDFC Limited company) or Avanse (a DHFL Company) at competitive interest rates.
Subject to Participant meeting certain norms, loans of up to Rs. 17 lakhs may be availed without any collateral requirement. Decisions on loan approval and collateral requirements will be taken by the financial institution disbursing the loan, at its sole discretion
Please note that applying for financing by way of loans in no way jeopardizes a participant's admission evaluation. However, in order to ensure that your loan is disbursed on time, we suggest that all participants seeking loan financing meet the early application deadline .
Companies can support the internal career advancement of their high potential senior executives by sponsoring them in the program.
Companies interested in sponsoring their high potential senior executives and who want to learn more about the program should get in touch with Northwest at USC@northwest.sg to schedule a one-on-one discussion with a program advisor.
Candidates must pay the fees directly and claim reimbursement from their employer. Northwest does not accept direct payments from companies at this point in time.
Get more information
Please fill out the form below to get more information about the USC Post Graduate Program in Analytics (USC PGPA).