UNIVERSITY OF LONDON INTERNATIONAL PROGRAMMES
DIPLOMA FOR GRADUATES IN MANAGEMENT

MAY, 2016 - MAY, 2017

Locations : Bangalore, Delhi & Mumbai

Program Tuition : Rs 9,95,000*

PROGRAM CONTACTS

Email: [email protected]
Phone: +91 8587878713 / 14 / 15
London – Flexible Learning
PROGRAM PEDAGOGY
The program uses a modular approach and provides a highly experiential, flexible but intense learning ecosystem, with over 550+ hours of classroom session over 12 months. The program pedagogy adopted is as follows:
4-6 contact classes in one month, over weekends, involving:

Lectures  – Weekend classes to teach essential concepts and their application for problem solving
Tutorials – Trouble Shooting of your learning gaps if any
Case Studies – with Harvard Business School alumnus and senior leadership
Workshops – Productivity Improvement and Personality Development
Online Assignments –  Follow up assignments to lectures for working through the week
Learning and curriculum support through the Virtual Learning Environment (Northwest and University of London):

All curriculum materials, lecture notes, presentations and case studies with solutions
Periodic quizzes, tests and examinations
Extra reading on materials prescribed and deemed important based on current economic and financial environment
Reading on other business concepts (optional)
Class videos (recordings) and other instructional videos
Video Conferencing for participation in class, when traveling on work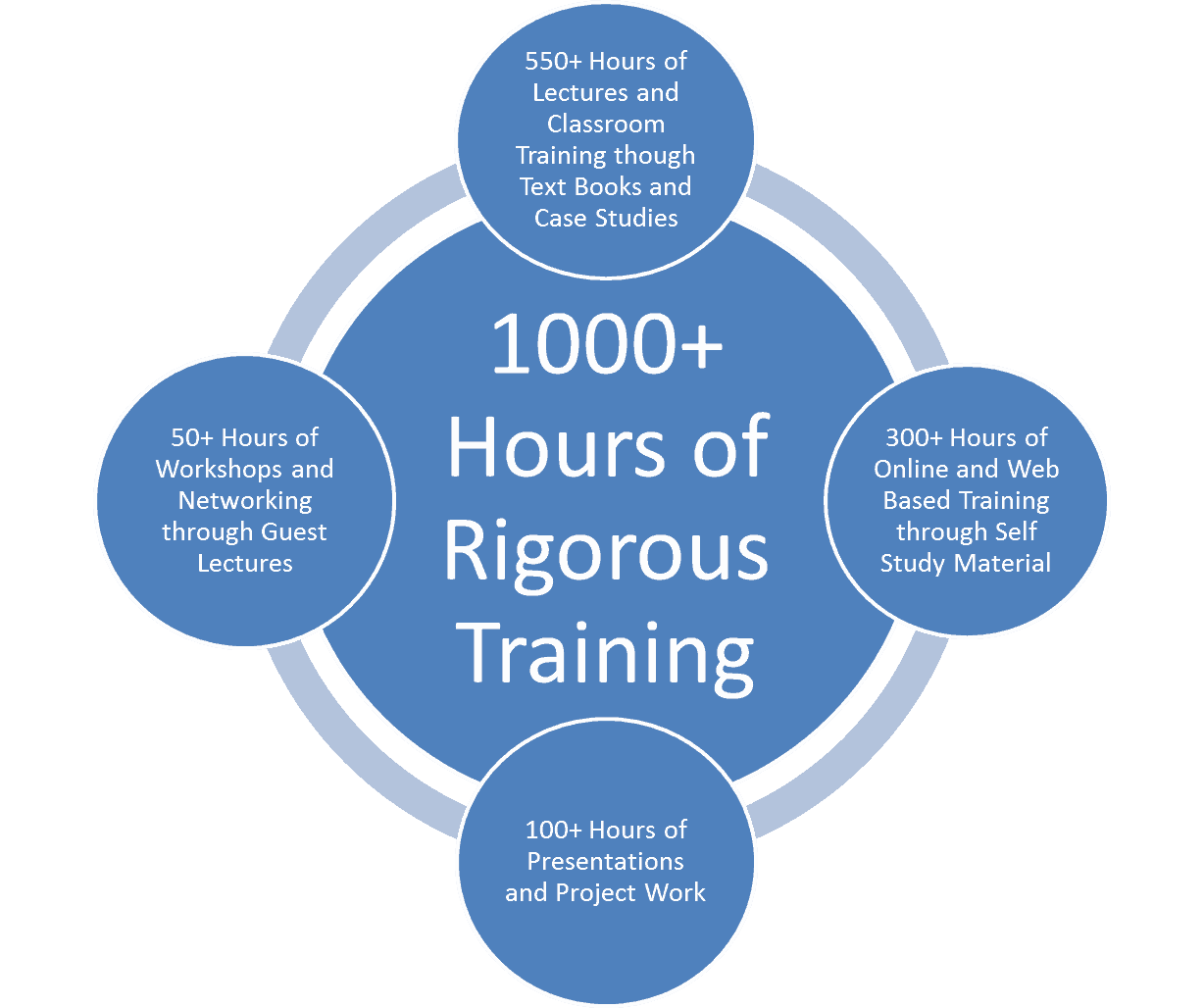 SUPPORT FOR LEARNING
We know that most of you are returning to classes after quite some time and have a hectic professional and personal life to balance. Hence we have designed the program in a format most suited to your needs:
Highly modular format, designed and adapted for you to study while continuing your professional engagements
All the program materials available online in Northwest course sites and University of London Virtual Learning Environment to provide you anytime access to your learning materials
Graded Difficulty – We start with basic concepts for you to acclimatize before going to the core papers
Productivity Workshops – Our trainers help you with Time Management metrics and other productivity tools
Peer based learning – Discussion forums with the entire class and faculty to continually engage and keep in touch
Contact classes organized in convenient location for you to attend the program, once or twice a week, based on the start date and schedule of the program
Class recording available to you, in case you miss a session
Our program solves the following typical challenges that corporate executives face while balancing work and learning, namely:
I can't study regularly due to a demanding job 


The program is designed in such modular format with graded difficulty level that just 1 hour of daily studying (and a few more on the weekend) should be good for you to manage your minimum performance expectations. Also, the shorter duration of the program helps as unlike others, our program runs for only 8-12 months depending on when you enroll.

I have to travel over the weekend for my work


The program modules are completely online with at least once a week contact program, the calendar for which is planned long time in advance to give you sufficient time to plan your travel. Or, join us through video conferencing so that you don't miss out!

What if I miss the contact program?


We strongly encourage you to attend the contact program, as they focus on course curriculum, facilitated learning, problem solving and trouble-shooting of key concepts.  In the rare case you miss a class, we will provide you with the recording and we can also plan additional sessions (or extra time in tutorials) to support you in your learning!