The Executive Program: Strategic Leadership at the Top
Today's executives face challenges and opportunities that extend beyond the enterprise—across industries and around the world. Confronting the challenges and embracing these opportunities requires more than training and expertise. It requires a strategic perspective, informed judgment and a global vision for what's possible.

Prepare yourself for the role of a lifetime with The Executive Program: Strategic Leadership at the Top (TEP). Reserved for senior executives with advanced management experience, TEP provides a platform for top executives from around the world to come together and explore universal challenges and solutions, helping them lead their organization in today's complex, global marketplace. TEP offers a global leadership experience like no other, a complete immersion into the principles, habits and perspectives of transformational leaders that will provide a higher view for how you lead your organization in today's complex, global marketplace.

Upon completing the  program, you will join the elite Darden Alumni and gain exclusive access to our vast global alumni network and an array of resources that facilitate lifelong learning, growth, and success. Following are some of the key benefits
Join 11,000+ alumni of Darden's MBA program across the world, whose sense of commitment, camaraderie and connection is globally recognized
Join Darden's worldwide network of 4,000+ alumni of the TEP program
A lifelong Darden email forwarding address – this does not expire ever
Inclusion in the Darden School of Business alumni directory and the University of Virginia alumni directory
Access to the Darden Alumni Career Services online toolkit including Alumni Job Boards.
Free access to Darden's case collection
Access to monthly webinars with faculty
Receive The Darden Report magazine (bi-annually)
Invitation to Alumni chapter events around the world (excluding admissions/MBA alumni specific receptions)
25% discount on all Darden executive education short programs
Receive Darden Alumni newsletters and updates from the School
The University of Virginia Darden School of Business delivers the world's best business education experience to prepare entrepreneurial, global and responsible leaders through its MBA, Ph.D. and Executive Education programs. Darden's top-ranked faculty is renowned for teaching excellence and advances practical business knowledge through research.
Darden was established in 1955 at the University of Virginia, a "Public Ivy" (ranked No. 1, 2 or 3 public university in US for decades) university founded by Thomas Jefferson in 1819 in Charlottesville, Virginia.
90
Countries with Darden Alumni
15k+
Alumni span the globe
#1
Education experience in the world
(The Economist, 2011–17)
#1
Faculty
(The Princeton Review, 2017; Financial Times, 2014–17)
#1
General Management Program
(Financial Times, 2012–17)
#1
Facilities
(Financial Times, 2015–17)
Of the more than 4,000 executives who have graduated from this program, many represent Fortune 100 companies. Their diverse industries include aerospace, consumer services, banking/finance, consulting, defense contractors, insurance, mining, nonprofit, oil, telecom, bio/pharma, chemical, construction and defence forces.
Executives in The Executive Program are selected for their outstanding leadership capabilities. As you share perspectives in the classroom, you will gain insights that will provide more breadth and depth to your own point of view.
We welcome applications from participants with
Significant experience and demonstrated career progression and success across levels, including 

CXO's, Directors, Presidents, VP's, etc.
Managers of managers
Senior functional managers and business heads
Individuals with outstanding careers and leadership roles in a variety of settings

A minimum of 12+ years of experience in significant management roles
A graduate degree with a strong academic track record.
Fluency in written and spoken English.
A strong drive, ambition and belief that being the best within the organization is not enough, they have to be one of the few in the industry, leading and shaping it for the future.
THE DARDEN TEP EXPERIENCE
Throughout this intense program, your TEP journey will be a shared one, connecting with engaged faculty as well as senior executives from diverse industries around the world. Our proven experiential approach focuses on the whole leader, to discover what inspires and drives you from the inside out and beyond. Because of Darden's commitment to experiential learning, each session is contoured by every participant's experience and organization, guided by faculty who prepare year-round for each session. The expanded program will provide more opportunities for participants to dig deeper into their specific challenges and opportunities, as well as take advantage of a variety of personal development and enrichment activities. Below are some of the reflections from past participants
Alumni share their reasons to select TEP, program experiences and key takeaways from this "life-changing" program.
Rare opportunity to step out of your regular life to learn, reflect and engage with a diverse group of people on the importance and responsibilities of leadership and how to create value where it matters most.
Kristen Hege (TEP '16), CVP, Translational Development, Celgene
It's a really holistic experience with faculty that teach together. It starts early in the morning, finishes at what time you want to leave at night, and there's a social side to it, too. I just grabbed every bit of it.
Neal Garnett (TEP '15), SVP, Construction Transport & Industrial, De Lage Landen
Named the world's best teaching faculty for executive education (Financial Times, 2014-2016), The Executive Program professors are experts in strategy, ethics, corporate finance, behavioral psychology and leadership, systems thinking, marketing strategy, and wellness will work across their functional boundaries and show you how to do the same.
Managerial Psychology and Leadership
Horniman's "Leading, Learning and Change" framework has inspired thousands of leaders to think differently about how they lead and influence others. His classes aim to heighten your self-awareness and help you better understand your strengths as an influencer and a leader. Horniman served in the U.S. Army and as a special consultant to U.S. Secretary of Defense Robert McNamara.
The Global Economy
Head of Darden's Global Economies and Markets area, Beckenstein teaches executives about open-economy macroeconomics, policy tools and the politics associated with them, emerging markets and global investing. His courses look at the past, present and the future. He has been the leader of significant learning activities in the public and private sector in New Zealand for 20 years.
The Extended Enterprise
Fairchild is an expert in strategic management, business ethics, leadership and entrepreneurship. He specializes in underserved, overlooked markets and was recently the lead investigator in a study of business models and public policy issues in the field of community development finance, an initiative supported by a $850,000 grant from the John D. and Catherine T. MacArthur Foundation.
Organizational Strategy
An internationally renowned scholar and educator in the field of entrepreneurship, "Venkat" teaches courses in strategy, entrepreneurship and ethics. He began his career as co-founder of a successful Indian technology spin-off. He consults with Fortune 500 firms and advises companies, universities and governments on strategy.
Operations Management
Thomas has led numerous executive education sessions in Africa, Asia, Europe and North America, including programs at Penn State, INSEAD and Georgia Institute of Technology as well as custom programs for Accenture, DuPont, ExxonMobil, IBM, Ingersoll-Rand, Mars, Office Depot, Parker-Hannifin, Pfizer, Schlumberger and the U.S. Marine Corps. He has testified as an expert witness and consulted for several large organizations on supply chain strategy including Accenture, CSL Behring, Dell, ExxonMobil and Lockheed Martin Aerospace Corporation.
Wellness
Bodily's "Sleep. Eat. Exercise. Rejuvenate." framework helps executives enhance physical and mental energy, focus and stamina. Executive capacity, endurance and health are increased through coaching and practice tools designed for real life. A registered dietitian with a Master of Public Health, Bodily develops and delivers health, fitness and nutrition programs to private and corporate clients.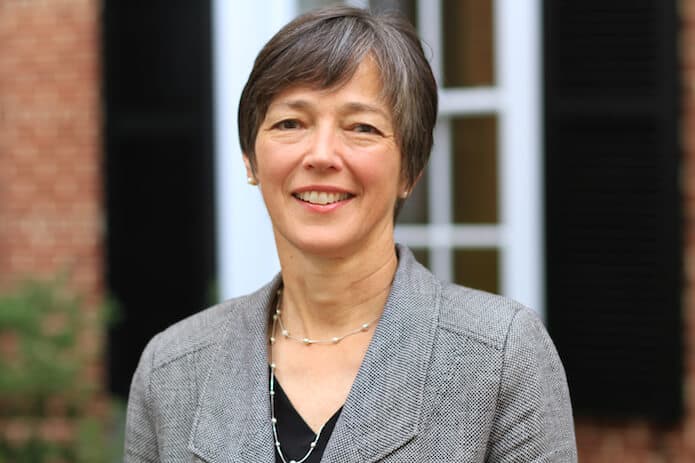 The curriculum is designed around three pillars of strategic leadership:
Think strategically, to develop a vision for your organization's future.
Lead strategically, to invite, include and inspire your team to turn vision into reality.
Influence strategically, to nurture a sustainable culture that builds lasting results.
Through several case studies and simulations, you will face scenarios not with academic 20/20 hindsight, but with the limited information available to the executives who first faced each issue. You will analyze real-life business situations and become a better leader by asking the right questions, thinking strategically and offering solutions-sharpened by the perspective of colleagues and their executive leadership experience. You'll also consider the application of new concepts to your current position, and you'll identify a "back-home challenge" for which you'll develop a customized plan of action to launch upon your return.
By putting you in a position to engage key issues across functional and enterprise boundaries, you will develop the acumen to inspire change and drive innovation within yourself, your organization and beyond.
Global Acumen
Understanding the global economy, economic growth and growth metrics
Fiscal and monetary policy tools for economic shocks
Emerging markets, especially China and India
Corporate governance in different countries
Identifying the aftermath of global shocks
Future growth challenges
Strategies for sustainability
Strategic choices in a difficult global economy
Personal Growth:
Leading through engagement and choices
Personal and team energy
Influencing and persuading
Personal learning strategy
Honing cognitive fitness
Owning your future
Power of exertion and restoration
Sustaining your physical, mental, emotional core
Igniting your passion for leading
Strategic Acumen:
Roles and responsibilities of an executive
Understanding what business you are in
Strategy and entrepreneurship
Understanding strategic role of finance and marketing
Bottom of the pyramid
Understanding economic policy
Creating corporate coherence and advantage
Marketing and finance in the boardroom
Organizational Growth:
Continuous innovation, disruptive innovation and design thinking
Defining and delivering enterprise performance
Customer insight and assessment
Leading transformational change
Operational effectiveness
Marketing the enterprise
Managing transition
Your leadership development will also continue off-campus during enrichment activities and workshops chosen by you and your peers. You'll expand on classroom concepts with topics like design thinking, financial management, entrepreneurship, or government and politics. You'll also improve your peak performance through a stamina-building wellness program that includes a course on cognitive fitness, structured exercise opportunities and a personalized wellness profile with risk ratings and recommendations for health improvement, so you can ensure that your physical, mental and psychological strengths serve you well during the program and the rest of your life.
You'll walk away from The Executive Program with:
A C-level enterprise perspective that integrates connections, patterns and key issues throughout your organization and industry to inform your systematic plans for business development
Stronger, smarter and more ethical decision-making skills
Expanded influence and improved negotiation skills, including the ability to invite, include and inspire teams that balance autonomy and direction
A detailed understanding of your company's "value creation zone," which pinpoints its ideal position in the marketplace
A customized plan for moving the needle on a specific corporate challenge
Techniques for managing individual and team energy during organizational evolution and change, including a personal learning strategy to continue your personal growth
The shared expertise and support of a global network of senior executives and business leaders
Continued access to TEP faculty
TEP faculty and alumnus share key takeaways and impact of the program
Participants represent a broad range of backgrounds in terms of industries, geographic locations, organizational size and professional responsibilities. The admissions committee takes into account a candidate's organizational level; management experience, particularly in senior management roles; and future responsibilities.
Proficiency in written and spoken English is essential for the completion of course assignments and active engagement in fast-moving discussions. A telephone or personal interview also may be required as part of the admissions process.
The Admissions Committee begins reviewing applications as soon as they are received. Once the review process has begun, qualified candidates are admitted on a rolling, space-available basis. It is recommended that you apply early to the Darden TEP as the space is limited. To apply online please click here.
Application Round
Deadline Date
Round 1
Closed
Round 2
May 4, 2018
TEP runs from Sunday evening, 3 June to noon on Friday, 29 June 2018. Registration is from 3 p.m.-5 p.m. on Sunday, 3 June. The program will open with a reception, followed by dinner at the Abbott Center dining room. Classes and events on the final day will conclude by noon.
Program fee for TEP is $49,500. The Program fee for TEP includes tuition, study materials, lodging and most meals.
LOCATION & ACCOMMODATIONS
During The Executive Program, you will stay on Grounds at the Inn at Darden. Consistently ranked among the world's best for food and accommodations by Financial Times, Darden's facilities include individual accommodations, rooms for discussion groups, a fully equipped exercise room, a recreation area and a casual gathering spot for evening conversations. The Abbott Center Dining Room offers a wide-ranging menu of local and organic cuisine prepared by professionally trained chefs.
Participants will have access to exercise facilities at the Inn at Darden and at the North Grounds Recreation Center, immediately adjacent to the Inn,  a multipurpose sports center with racquetball and squash courts, group exercise rooms, swimming pool, sauna, Jacuzzi and cardiovascular and strength-training machines.
Charlottesville, home of UVA and the Darden School of Business, is a dynamic community offering natural beauty, metropolitan culture and incredible opportunities. It is